Next-generation recycling
We recycle WEEE: Waste Electrical and Electronic Equipment. In general, this consists of hard plastic found in objects of all sizes: photocopiers, TV sets, decoders, toasters, hairdryers, refrigerators and residues from vehicle shredding, such as car bumpers, or mixed materials.
Located on a 2.5-hectare site, the plant occupies 9,000 sq m and a new building will be built in 2023! The roofs of the plant and other buildings are covered with 1,400 sq m of solar panels which produce green energy directly consumed on the site.
Our plant was commissioned in record time for a completely innovative production line, where there is a sequence of very different processes to produce a "new raw material" from scraps that was previously not recycled or poorly recycled.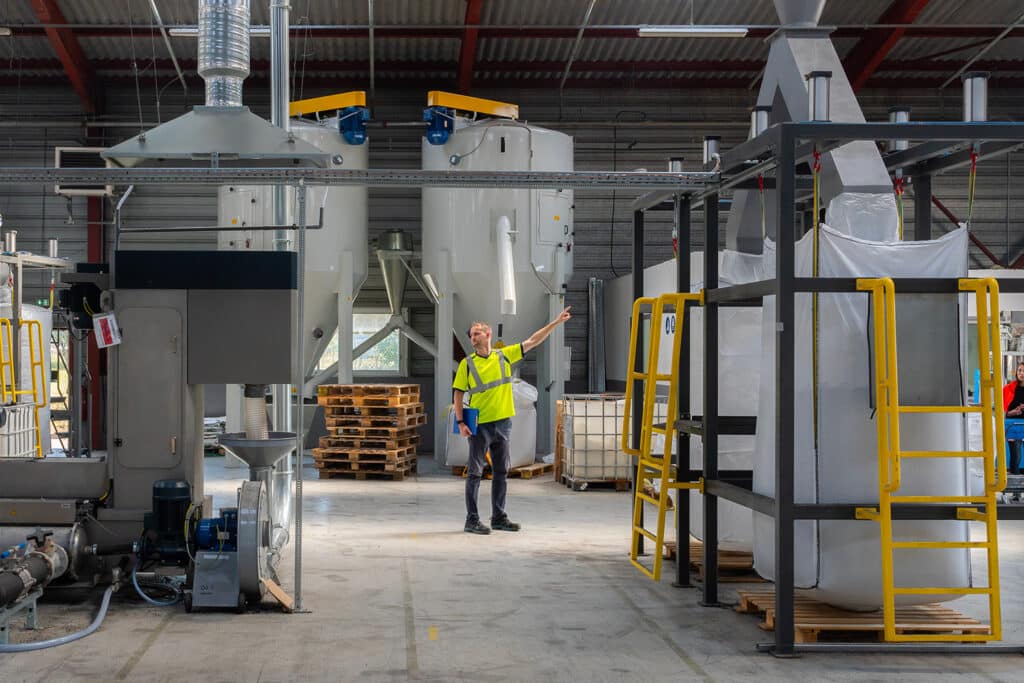 Unique know-how
Our exclusive process contains three successive phases to produce a ready-to-use recycled pellet, with mechanical properties similar to those of virgin plastic. This recycling process consumes 40 to 50% less energy than the production of virgin plastic, with a filtration fineness of 120 to 150 microns.
SINK-FLOAT SEPARATION
Wet separation based on a ratio of 1.08x the density of water for the first sorting stage, which is decisive for the rest of the process.
TRIBOELECTRICITY
The second separation stage is a dry process with our technological partner with whom we have enjoyed a partnership for 10 years.
EXTRUSION
Now grouped into product families, and after optical colour sorting, the scraps is transformed into pellets, becoming a custom-made raw material again, ready to be reused!
Our products specifications
What difference can you see between these two pellets?

THE VIRGIN PELLET

THE RECYCLED PELLET
Its production generates between 50 and 70% less CO2.
The production of one tonne of regenerated ABS results in a 69% reduction of impact on the depletion of fossil resources compared to the virgin material.
AND ABOVE ALL: IT WILL BE ESSENTIAL IN THE YEARS TO COME!
Innovation, quality and industrial compliance
We continually innovate to keep the quality and stability of the recycled product the same while increasing our volumes, as the quantity of scraps to recycle is growing all the time. The goal: for this recycled raw material to be identical to the virgin raw material used by our customers!
R&D on new materials to be recycled,
Multiple controls at every step of the sorting and production process,
Solutions tailored to our customers (colours, flexibility, resistance, stability, fluidity, cycle time, etc., in line with their specific needs),
Optimisation of our energy consumption,
No production rejects